Today, in order to distract you from your civic duty, I would like to call your mind back to a different age – a more nostalgic time.  A time of ice cream trucks, 9 to 5 jobs, and eating at home.  A time of "Lassie" and "Leave it to Beaver."
Yes, indeed, a time of wood paneling on cars.
I just don't understand fake wood paneling.  Why would someone want a car with an outside that looked like it was only partially made of wood? As if the steel top and the steel bottom needed some kind of weak material in between to hold it all together…
Station wagon,  I blame you!  You brought this fad into our lives.  You are responsible.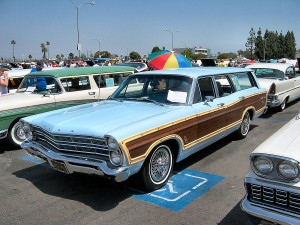 Then there's the grand wagoneer.  Wow.  This car was just a marvel of modern design, wasn't it?  It's a station wagon trying desperately to live in a world of the up-and-coming mini-van and SUV.  I remember we used to have a neighbor with one of these cars which was often parked in the driveway.  I used to stare at it, marvelling at its confusion… is it a truck?  Is it a car?  Is it a luxury car with all that wood paneling?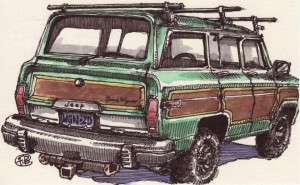 So in an effort to understand wood paneling, or "woodies" as I came to found out they were called, I turned to the founte of all knowldege.. Wikipedia:
Reintroduction of woody decorated station wagons by other makers in America began in 1966 when Dodge offered the look for the first time in fifteen years. By 1967, simulated "wood" decoration was used exclusively on top line models, with unadorned vehicles denoting lower price and status models.

In many suburban communities, owning a current year woody station wagon was a sign of affluence and good taste. In the 1980s and early 1990s, the idea of "fake wood" became archaic and manufacturers dropped the option. With the introduction of the retro-styled Chrysler PT Cruiser, aftermarket firms began selling faux woodie kits designed to evoke a sense of nostalgia.
So now I understand!  The people who like wood paneling are the same weirdos who like PT Cruisers. It all  makes sense now!
Armed with my new research, I think I want to bring back the suburban status symbol of a strip of fake wood down the side of my car.  Think it will catch on?  Who is with me?