This morning I ran across the following paid advertisement on Facebook: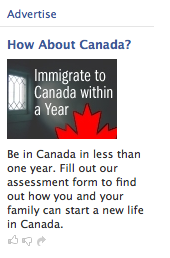 First of all… since when did any country advertise for immigrants?
"Start a new life" seems to appeal to particular brand of people that I'm not sure you want to attract.  This would indicate that they probably did something to screw up their current life.  Do you want a population of screw ups invading your country?
I don't understand.
Wait!  Maybe this recession is taking such a drastic toll on tax revenues that cities, states and countries are going to have to start advertising, like corporations, for people to come and live (and pay taxes) in their territories.
So with that in mind, I'd like to create my own advertisment for Wylie TX (where I live)
When I say "Wylie" you might think of a few things…

Maybe you're thinking…

"Wyle E Coyote"

Or maybe, if you're from Dallas and know a little about Wylie, you think…

"Rednecks"

Well, Wylie isn't either of those things.

Wylie is where farmland meets suburban development.  Wylie is where Lake Lavon meets Wal-Mart, and Wylie is where FM544 (Plano Parkway) meets Highway 78.

Move to Wylie.  We need more tax $ so they'll stop trying to pass the stupid school bond.
So.. here's the fun part.  In the comments, please create an advertisement for your city, state or country.  Ready…. GO!