For those of you who enjoyed The Lovely Sister's hostile takeover of my blog, as well as her other guest blogs, I am as proud as punch to announce that she has decided to start her own blog!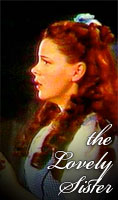 You can read her blabber at:
Good luck, TLS.  We'll miss your guest blogs here, and hopefully every once in a while you'll pull double duty and impart some of your wisdom to us. (Wisdom which has come through a lifetime of association with me, your fine WhiteEyebrowed brother)
** WARNING: This is no excuse for any of my blog traffic/readers to defect and enjoy her blog more.  Please note that my ego requires much more stroking than TLS', so please keep up that important work, my dear readers.