I've been meaning to write a post for over a week now about the prospective automobile industry bail out, but just haven't been able to bring myself to do so.  See, I don't want to get into trouble for all the hate-speech that I would surely engage in against the huge doofaces who have run these companies into the ground for YEARS!
This should be their new mantra: consistently poor performance will yield consistently poor results.
So instead of ranting on and on about how these companies need to fail (go into bankruptcy), restructure, and reinvent themselves for long-term survival, I'm just going to post this image that I received on Facebook, which perfectly sums up how I feel about the whole deal: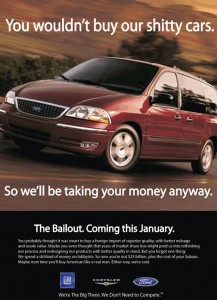 Someone suggested that there are 'national security' implications with the auto industry since they were born out of the great manufacturing boom of WWII.  Uhh… Hello!  This isn't the 1940's, Auntie Em.  We don't use tanks as the primary weapon of war anymore, and the tanks we do use certainly aren't produced by Ford (in that case, they'd just quit working in the middle of the war).
We don't owe these car companies anything!  For years they have produced crappy products that no one wants to buy, and the suckers who did buy them were invariably disappointed at either quality, safety, or performance.  I've been very happy to patronize Honda, Toyota, and the other manufacturers who are clearly doing a better job and producing a superior product.  And hey, they even manufacture their cars right here in America!
Sure, there are a lot of jobs tied up in the auto industry, and losing a million jobs right now would cripple our economy even more.  The argument against letting these companies go bankrupt is that "no one wants to buy a car from a bankrupt company."  Uhh… But have these people seen the statistics lately?  No one is buying cars right now, anyway!  Now is the perfect time for them to restructure.  It will cause the least amount of disruption to their already non-existent business.
The nasty component of this mess is the UAW.   What can I say about the auto worker's Union?  Poo on you.  You have become a cult of 'rights', just as most other labor unions, and have milked the cow dry.  You have crippled your own industry by your greed (which is the danger of the modern labor union in a global economy) and basically unionized yourselves out of your own jobs.
I'm done with company bail outs.  I want my tax money to go for something that I will actually see a return on rather than hand-outs meant to pump air back into balloons which have already popped.