About a week ago, my fiance surprised me by going over to my house on her day off and doing some cleaning.
Now, I'm a pretty clean person – especially for a bachelor – but there's one thing I've never been 'anal' enough to do, and that is to keep the hard water stains from accumulating on the shower glass.
It's just a futile thing.  It's an uphill battle.  In "Man vs. Nature", nature will win every time.
Well, she spent what must have been a very long time scrubbing the glass in the shower and removing the hard water spots.  Then, she hung a simple instrument of torture inside the shower: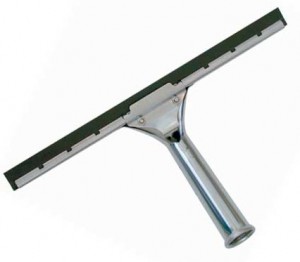 A squeegee!
Yes, friends.  A squeegee.  I, WhiteEyebrows, now squeegee the shower every morning to maintain all of the hard work and love that she has put into making the shower door see-through again.
As I did this for the first time the following morning I thought to myself: this is the first of a lot of stuff that I will now do for the rest of my life.  Stuff that is assigned to me.  This is the 'yes dear' stuff of the world.  This is the commitment you make to the other person's priorities.
Why do we men do it?  I guess it's out of either fear or love.  Pick your favorite motivation and go with it.
I'm not afraid of this.  I can do this.  However, I do recognize this as the first encroachment into my intimate shower space.  First it's a simple squeegee.  Next it's going to be 67 various bottles, brushes, containers, foams, and implements, and before you know it, my 3 shower bottles are going to be sitting on the floor.
Before you go hauling off and mocking me in the comments, excoriating me for my 'set in my ways' bachelorness, let me tell you: I see nothing wrong with this and am perfectly happy with it. There is a natural order to things, and this is it.  I'm not fighting it, and I'm not complaining about it.  I just finally see this prototypical life fact barreling down the highway at breakneck speed toward me, and this is me smiling back at it before it hits me.
Bottoms up for change – if not in Washington, at least in the W.E. household!