I am finally going to share one of my most personal and closely kept secrets ever. One of my truly wildest dreams.
Perhaps my Mom, Dad and my sister, the people who were most attuned into my crazy, nerdy childhood will be the only ones who will have known or will completely understand this obsession goal dream of mine.
And here it is… I have always wanted to be this guy: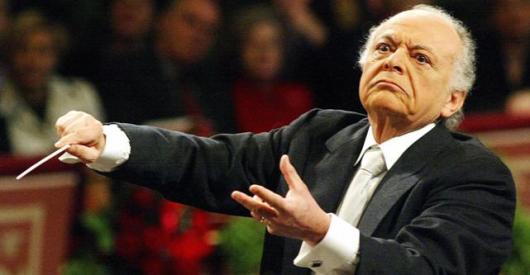 Not this particular guy, but I wanted to be just like him. I wanted to conduct symphonies and symphonic choirs. I wanted to exist on the edge of reality and music, as these maestros often do. I wanted to walk around with music bouncing around in my head all the time!
To give you a history, when my parents bought their 80's Plymouth Voyager mini-van, it came with the "Infinity" sound system, which also had a demo cassette. One entire side of this demo cassette was dedicated to classical music, because it was, obviously, royalty-free and who was going to listen to this stupid cassette anyway….
I was.
I listened to that thing over and over. I wore that sucker out! I listened to it in the car, at home, outside while jumping on the trampoline. Everywhere. Not only did I listen to it, I conducted it! It distinctly remember sitting in the passenger seat in the Plymouth Voyager while VIOLENTLY conducting the music! I was all over the place! There wasn't an ictus in sight.
One night, I was watching the news (oh yeah, there was a daily ceremonial surrendering of the remote control to Dad when he got home from work so he could watch "the news") and seeing a story about the first woman who became maestro of a major symphony orchestra. It blew my mind. They actually let real, actual, live people become that! "How do I get your job?" I wondered.
Fast forward several years… I started singing in choirs when I was 13 years old. I loved choir. Over the next 10 years I sang in lots of choirs, and some of them were pretty amazing choirs with pretty amazing directors. But my dreams of becoming a world-renowned maestro had to take a back seat to my more realistic goals of becoming a successful theatrical director.
I'm a firm believer that I have a lifetime to make my dreams come true, and so one day you will see me direct some really important choir…
Until that time, though, I'm still practicing with the cassette.