You can pick your friends, and you can pick your nose… wait!  No, you can't pick your nose!  Not on national television, at least?  Right?
Not unless you are Greg McElroy of the Alambama Crimson Tide!!
Just in the most dramatic part of the game, when Texas scored a touchdown and 2 pt conversion that put them within striking distance of Alabama, we got a brief cut-away of McElroy before they sent it to commercial.  In this singular moment of drama in the game, this is what we got?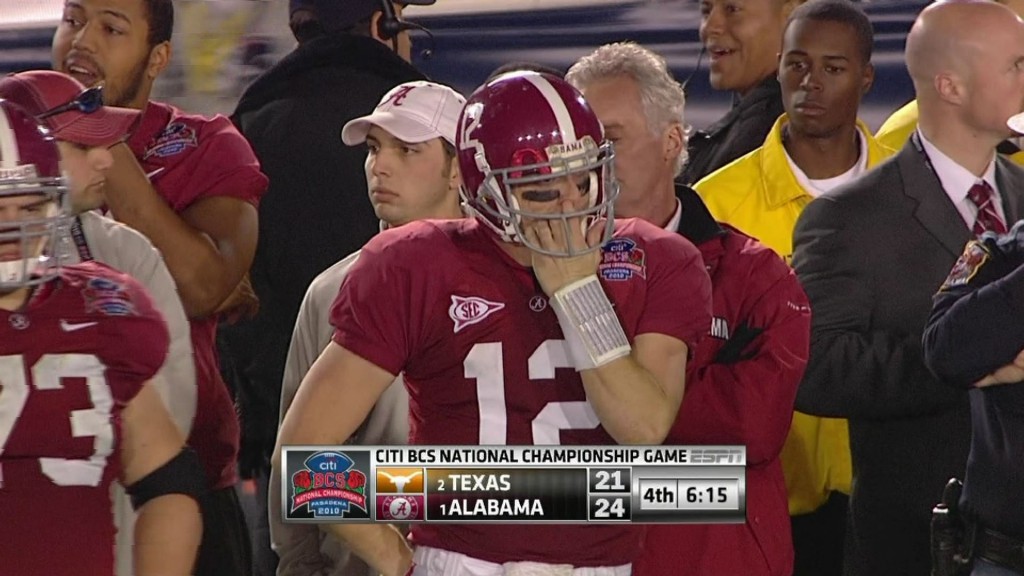 Didn't anyone ever tell him that you never know when the camera will be on you?
The funny thing is the commentary that went with the shot… the commentators mention that he hasn't lost a game since the 8th grade… then BAM!
See for yourself:
[flashvideo filename="/video/nosepick.flv" /]
I will say, though, that I probably shouldn't be insulting the quarterback who cracked ribs in the last game, and then showed up to play his heart out in the national championship.  I should be mocking the lilly livered Colt McCoy, who abandoned his team after a little sprain in his shoulder.  But I guess he really wanted a million dollar draft bonus over a national championship and respect.