In spite of our late start and missed breakfast, we hurried and finished getting ready at our B&B and took off toward the ancient Roman sites in the southern part of the city.  As we neared the part of the city with the ruins, we were ready for our first real italian meal.  Thankfully, Audrey led us down a strange alley that took us past this great little restaurant.  The inside walls were the color of Pepto Bismol, and the ceiling had all of this amazing brick arches running through it.
It was at this moment that I ate the most incredible lasagna of my life!  The pasta was fresh, the sauce was fresh and there wasn't too much of it, the cheese was perfect.  It really tasted like some Italian grandma was back there making this stuff.
As we finished at the restaurant, I asked to use the bathroom (with low expectations, of course).  To get to the bathroom I had to pass through the back patio, where it turns out there were all of these native Italians.  I guess tourists like us have to sit in Pepto land, while they get to enjoy the back patio.  I suddenly felt like I had stumbled into a local gem.
We continued to walk down to the ruins and ended up taking some back-alleyways (cause we're so adventurous) that actually took us behind most of the ruins.  On the way, we passed this church where we could see people pouring out in tuxedos.  Moments later, as we were further down the road, we heard cars honking.  My guess was it was a wedding (though I didn't think they'd have a wedding on Sunday… but whatever).  Also, a nice little run in with the locals.
The Ancient Roman sites were pretty cool.  It's pretty amazing to think that some of that stuff has been around for 3 or 4 millennia.  It was also strange to see what was preserved vs what had been destroyed.  The archways and some of the detailed panels are in pristine condition, while some of the more rugged things like columns are just a mess.
Paulo saved us a bunch of time and headache by telling us that we could get tickets to see all 3 ancient sites (Forum, Palatino, and Colosseum) all at one ticket office at the Forum.  This allowed us to skip the hour and a half wait at the colosseum, which is the most popular site.
We started at the forum, where we just kind of wandered around guessing what stuff was.  We didn't get the audio guide, like we should have, but we did eavesdrop on some group's guided tour for part of the time.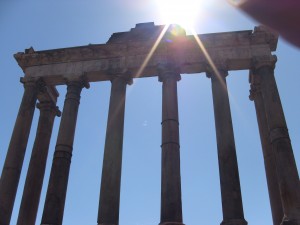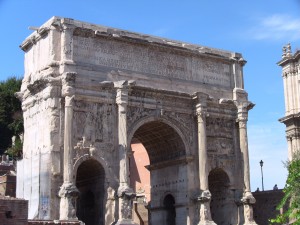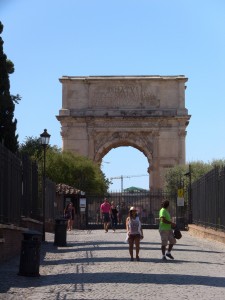 The collesseum was pretty incredible.  We learned our lesson and got the audio tour there, where we learned all kinds of interesting details about the building, like how much of the dismantling of the colosseum was done in order to build churches in Rome, including St. Peter's Basilica.  It wasn't until the church 'consecrated' the site to the memory of the persecuted/slain early Christians that its historical importance was acknowledged and it began to be preserved.  (Ironically, there is no primary evidence that Christians were ever slaughtered in the Colosseum.  Just hearsay.)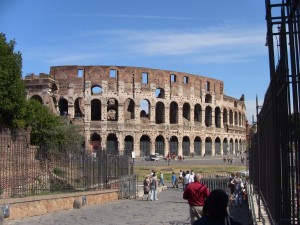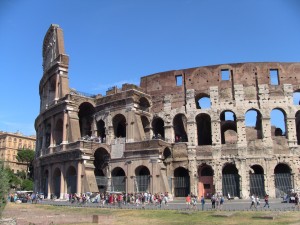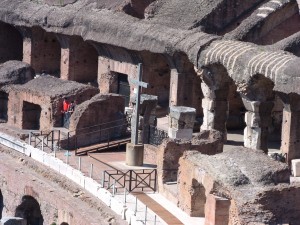 The colosseum would rival any stadium today in both technology and capacity.  Some projections say that it could have held up to 80,000 spectators.  There was an entire false floor the gladiators fought on, with various passageways and theatrical rigging below, just like you see on Gladiator.  It is almost strange to see how the architecture of a stadium has remained relatively unchanged over the years, as even the colosseum had various 'portals' where the spectators could quickly and easily filter out of the stadium quickly.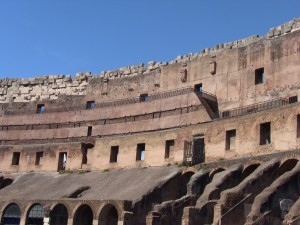 After the Colosseum, we were tired, but wanted to round out our trip to Ancient Rome by visiting the Palatino, the hill from which Caesar ruled the roman empire.  Very little of this area remains, and we didn't get many photos because – well – we were already exhausted, but it was cool when we were leaving the Palatino to see the view over Ancient Rome.  No wonder Caesar had his palace built on the hill where he could look over his beautiful city!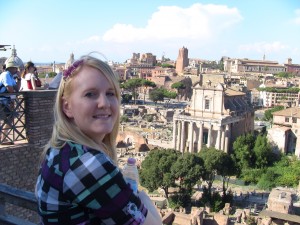 We hiked back to our B&B from here, and got ready for dinner.  We wandered around Piazza della Republica, the closest piazza to our B&B, and just chose a place off the piazza to eat for dinner that didn't look too questionable.  This was proof that looks can be deceiving.  This restaurant was very nice, modern, and new-looking, but the food wasn't great.  We learned that not every eating establishment in Italy is amazing like the one at which we ate lunch.  At this one, the service was terrible, the food wasn't impressive, and we were just glad to get out of there when it was all said and done.  I had a 1/2 roasted chicken, but it wasn't that tasty.
We went back to our B&B, and along the way had another dip in the Gelato case… Audrey decided that we needed to try every flavor and never repeat flavors.  Since she tracked which flavors we ate, perhaps she will post that on her blog…