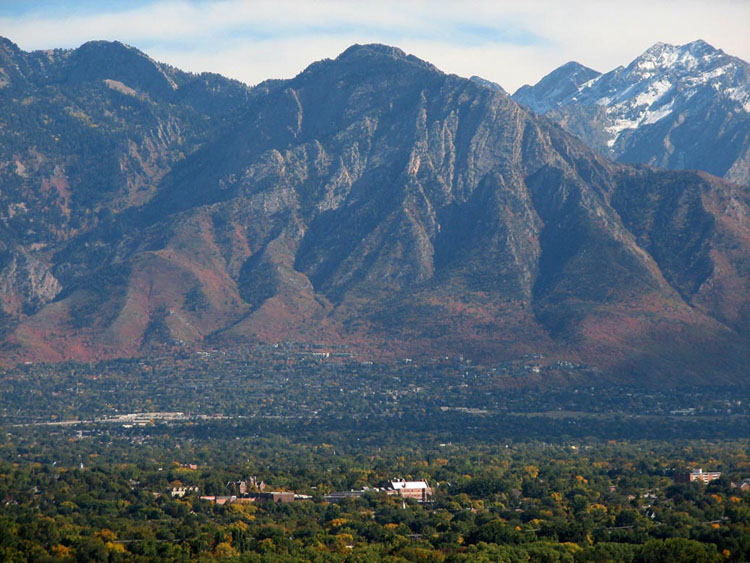 One of my favorite hymns is "For the Strength of the Hills"
For the strength of the hills we bless thee,
Our God, our father's God.

Thou has made thy children mighty
by the touch of the mountain sod

Thou hast led thy chosen Israel
to freedom's last abode

For the strength of the hills we bless thee,
Our God, our father's God.
When I come to Utah and see the mighty Wasatch mountains, the imposing Mount Timpanogos, or even the smaller but prominent mountains above Pine Valley in St George, this song comes to mind.
The lyrics aren't much, but the tune is incredible!  It has a run in the second line that makes you feel as if you climbed the mountain, reached the top, and then in the final line are standing on the top of the mountain, having conquered it.
I absolutely love living in Texas, but the one thing I miss about my home state is the beautiful mountains and valleys.
Whenever we drive up one of the canyons (we drove up and over Parley's Summit and also through Provo Canyon this weekend), I can't help but think of how pioneers in handcarts and wagon trains every managed to make it through these treacherous passages.  I wonder what they must have thought of their leader who said "this is the right place" after they'd arrived in one of the most arid valleys in the United States, complete with a huge lake of undrinkable water.
My paternal great-great grandparents were among some of the Mormons who came and settled as "pioneers".  While they weren't some of the first in the Salt Lake valley, they were among those called to colonize and pioneer the southern areas.  Originally, they were called to settle in Arizona, but a crisis among the Indians and Pioneers halted their journey, in southern Utah.
Since we've been out here honoring the living this weekend (through weddings, graduations, showers, and baptisms), the dead will have to settle for a blogged memorial this year.
They are as the firm mountains around us, beautiful giants, presences of the past, which are a never-changing signposts of who we are and where we have come from.  We owe a debt of gratitude to them for pioneering the way, advancing our society, and defining who we are.