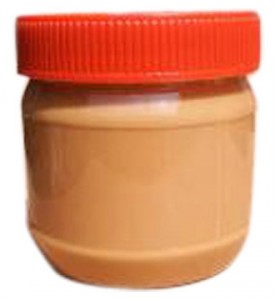 At a very young age, I remember going with my siblings and some of my cousins to the city park to play.  One such time, when we were going to be staying for a while, my aunt packed us a lunch.  When she asked what kind of sandwich I wanted, I replied with one of my most favorite concoctions: peanut butter and honey.
We went to the park, romped around and got really tired, and then it was time for lunch.  I was really excited to take a huge bite of that peanut butter and honey sandwich!  When I took the first bite and began to chew, though, I was in for one of the rudest surprises of my life… there were CHUNKS of something in my sandwich!  I had clearly asked for a peanut butter and honey sandwich, not a peanut butter, honey, and rocks sandwich.
My tender young palate was not ready for my first experience with chunky peanut butter, and if I remember right, I don't think I even took a second bite of the sandwich.
A big part of life involves managing expectations; both managing your own expectations and managing others' expectations.
I would have probably enjoyed trying the chunky peanut butter if someone would have informed me that it was slightly different than my regular experience with Mom's creamy Jiffy bottle and prepared me for the different experience I was about to have.  No one ever explained to me that there was a difference between peanut butters, and no one ever prepared me for that experience.
I deal with this phenomenon often at work.  Part of my work is to validate new designs by watching individuals use them who have never seen them before.  More often than not, I can see that the success or failure of a particular design doesn't lie in the actual quality of the design itself, but in the way I prepared the user – the things I tell them as well as the things I don't tell them – to interact with that particular design.
When I was serving a mission for my church, my mission's president often brought up the subject of "expectativo" or expectations.  He told the story of how during the 1980's, missions were temporarily cut back to 18 months, and then later re-extended to 24.  He noted that those who were called for 18 months felt just as worn out and fulfilled as those who were called for 24.  It didn't matter what the time frame was that they would serve – 18 months, 24 months, or 36 months, but they all felt the same level of exhaustion when they returned home.  The longer missions clearly should have been harder on the individual, but they weren't.  They had simply fulfilled the expectation of exhaustion they had set up for themselves.  It's only when someone's expectations were changed midstream that people started getting messed up.
So I guess it's important that we set realistic, but slightly out of reach expectations for ourselves.  It pushes us to do more than we thought we were capable of and stretches our capacities. Regarding personal expectations, I often say, "It's better to aim for the stars and land on the moon than to aim for the tree tops and land in a pile of poo."
Sadly, the greatest disappointments in life often come from expectations that are too high or unrealistic.  I'm thinking specifically of parents' expectations of their children.  Surely parents want the best for their children, but the truth is that oftentimes parents and children don't agree on what is best for them.  So perhaps we need to also leave room in our expectations of others for them to write in their own changes based on their freedom of choice.  It's not easy to do, especially for individuals we care deeply about, but absolutely necessary so we're not constantly beating ourselves up over things we have no control over.
Nowhere is this game of expectations more evident that with the current state of politics.
Expectations of President Bush were moderately high in 2000, but were drastically changed by the tragedy of 9/11.  In a lot of ways there was no coming back for his approval rating after the disruption of these expectations and the descending into the previously unforeseeable wars.  People felt betrayed as their expectations of this "compassionate conservative" were violently betrayed.
Obama has now been elected, and his consistent campaign based on the premise of delivering change to America is now going to be put to the test.  Expectations are wildly high among the average American.  They've been convinced that they are so much worse off than they were 8 years ago, and now they have assigned Obama the task of making it all better.
In truth, this promise of change will be hardest campaign promise to keep.  It is not specific, measurable, or graspable.  (Cue: How do you solve a problem like Maria?)  The government is violently resistant to change, and Obama will have to turn to people (Rom Emmanuel) who aren't exactly poster children of change to staff his administration.  In fact, many will come in who represent everything that is wrong in politics, and people are already starting to ask themselves: how much change can this 1 term senator really bring to the table?
The media isn't helping, either.  Last night I heard a young African-American guest on a radio program describe Obama as "…my generation's Martin Luther King or John F Kennedy."  Well, I have news for this guy:
Obama has yet to do anything.
Yes, he ran a campaign and consistently voted against the war, but those accomplishments hardly put him within a moonshot of those singular leaders.  He seems to be a fine individual who has much promise, but you'll have to pardon me if I hold off on the waving of palm fronds until he actually accomplishes something besides winning the most winnable political campaign in recent memory.
Based on these sky-high expectations for Obama, I see nothing but disappointment in the future for many Americans, when they find out that the Obama they want may not exactly be the Obama they get.