Day one of the Republican National Convention was basically cancelled due to Hurricane Gustav making landfall yesterday.  It appears like everything in the gulf coast will return to normal quick enough for the convention to get back on track today, but it still kind of ticks me off that the Democrat's love fest didn't get interrupted in a similar way.
I'm really glad they evacuated New Orleans, even though the storm was less powerful than expected.  Of course, next time everyone will think "it's not going to be bad, just like last time."  Why do we idiot humans think things can never be worse than last time?  It's almost like we have only the capability to store feelings from 'the last time.'  Hopefully Katrina was tragic and disastrous enough that it will remind us for at least a generation to not mess with these things.
I'm telling you, the Reps can't catch a break this year.  Even the hurricanes are against them.
Sarah Palin has a daughter who is pregnant.  Oh, and by the way, she is seventeen.  Unfortunately, in this country, that is pretty much the standard age to be sexually active and pregnant.  Uh-huh…  The good news is that so many families have had to deal with teen pregnancy that it won't be viewed as much of a negative for her.  Really, this is just an exciting 15 minutes for the media to satiate their salivating mouths and draw first blood on Sarah Palin.
Boring.  I know.  Politics are boring.  Last week's statistics proved that you all are sick of hearing about politics from me: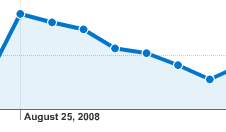 So it's time to talk about BABIES!!!
A few weeks ago, the Brauns had their first baby, Ellie.  This weekend, she got to meet her new Uncle WhiteEyebrows for the first time.  We are going to be best of friends, and I can't wait to show her the American Idol way of truth and light…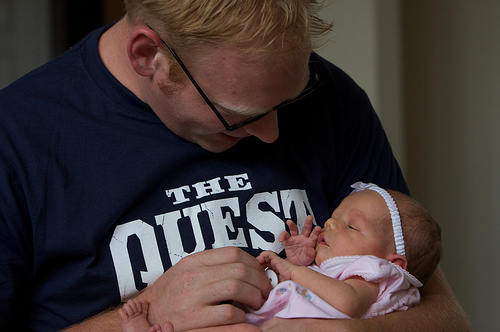 For the record, her Mom and Dad said that she sometimes struggles with strangers, but she took to me like David Archuleta to John Lennon.  She has the biggest mouth, perfect for singing Lionel Richie songs with her dad, and an already active tongue, perfect for arguing with her mother.  She's already got plenty of practice this weekend being a "naughty little monkey," but at least knew to be good long enough for a quick game of Mao.
Since we don't have the notion of a "Godfather" in Mormon culture, I hereby create and claim the position of honorary-non-blood-relative-protector-man, A.K.A. "MoFather".
So a super WhiteEyebrows "Mazal Tov" shout-out to Adam and Tammy on their beautiful bundle of joy!  They are going to be the best parents.  I already feel for Ellie's future boyfriends and the 21-point interrogation they will have to undergo at the hands of the Father.
(Red letter moment on the WhiteEyebrows blog… first time I've posted a picture of myself on my blog… enjoy!)